Rhinoplasty is a popular procedure for people with unsatisfactory nose shapes and breathing problems because it provides a more balanced appearance of the bridge, tip, and nostrils of the nose as well as better inhaling and exhaling ability. As part of rhinoplasty, a ski slope nose is a nose job procedure in which the nose is given a sloped shape in such a way that the nose bridge slightly sinks before the tip of the nose inclines in the upper direction. In this respect, the perfect ski slope nose looks like a downward ski jump platform that turns upward at the very end.
What is the Ski Slope Nose?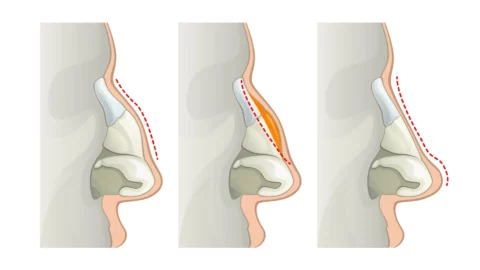 Ski slope nose is a type of cosmetic surgery in which the nose bridge is shaped into an inward slope with a curved up nose tip at the bottom. In this regard, a slope nose shape appears quite similar to a ski track that finally meets its jumping ramp. When putting on a ski slope nose, it's also important to make sure the nose looks good with the rest of the patient's face, so that the unique features of the patient's nose stay safe.
Shape of Ski Slope Nose
A ski slope nose shape simply consists of a downhill sliding bridge that slightly bends inward just before the nose tip makes an upward movement. This ski jump outlook, together with the slim and delicate appearance of the nostrils, gives the nose a gentle and aesthetic appearance. Such being the case, the ski slope nose becomes quite attractive to many rhinoplasty patients.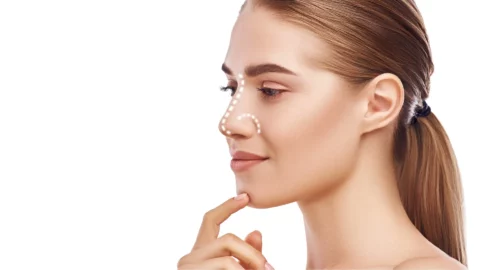 How to get a Ski Slope Nose?
During a ski slope nose operation, inner incisions are applied in the nose for the purpose of removing the cartilage inside the tip as well as lessening the bridge tissue, which modifies both the tip shape and size. Because the nasal bones are not touched during the procedure, bruises and swellings are uncommon. The post-operation process for a ski slope nose includes the wearing of a nasal cast for approximately one week with the intention of keeping the nose still and preserving it from possible outer impacts.
Is it possible to get a ski slope nose without surgery?
Non-surgical slope nose procedures, such as nose fillers, can be an option for people who don't want to have surgery on their noses to get what they want. During this outpatient application, a filling substance like hyaluronic acid is injected beneath the nose skin to form the shape. The procedure does not take long, and the result usually remains effective for up to two years.
Ski Slope Nose Before & After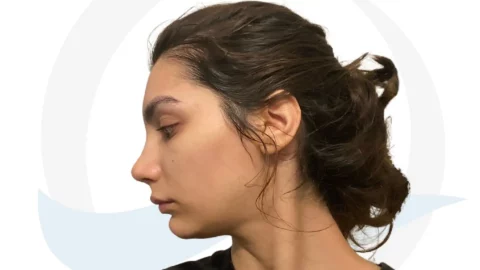 Ski slope nose before and after pictures and records are not given to patients. This is because of competition and advertising laws in place today, as well as the risk that pictures can be distorted or changed because of how technology works today. However, the consulting or main offices of most clinics or hospitals display ski slope nose before and after reports and photos of patients who have already been operated on after getting their permission. Patients may as well be shown medical references during their preliminary examination. Posts and comments of patients who have previously had the surgery can also be checked on the social media profiles of clinics.
How to fix a Ski Slope Nose
Patients might at times demand a revisionary ski slope nose job either due to their dissatisfaction with their innate ski slope nose shape or because they wish for a flatter and lower nose tip. Patients may also request plastic surgery to correct a ski-slope nose shape that developed as an unfavourable result of a previous rhinoplasty operation in which more tissue than necessary was extracted from inside the nose. In this case, the nose can be operated on again as part of a revision rhinoplasty to secure a lessened slope and a dropped nose tip.
Ski Slope Nose Surgery in Turkey
Turkey has recently risen to popularity in terms of rhinoplasty, or a "ski slope nose job" in specific terms, mostly due to the fairly pleasing performance of Turkish facial plastic surgeons and the relatively less expensive prices when compared to other countries. Thanks to the highly advanced medical equipment available in the health centres where patients can receive rhinoplasty services, ski slope nose surgery in Turkey proves to have promising results. The operation is carried out under general anaesthesia and requires at least one overnight stay at the clinic or hospital. Following the surgery, a nasal cast, which is removed after a while, is applied on the nose so as to keep the bones in place during the course of recovery.
What are the Risks?
Even though they are rare, there are some risks after a ski slope nose surgery, such as an infection or trouble breathing. A surgical cut made during a ski slope nose job could cause an infection if bacteria get into the bloodstream. This is the same risk that comes with any surgery. But the risk is greatly reduced if the patient carefully follows instructions about how to clean their nose after surgery and how to take their antibiotics. Similarly, while breathing difficulties may occur on rare occasions as a result of nasal airway narrowing as a result of an excessive move in nose reduction during the surgery, the operation most often produces the desired results in the hands of a highly skilled plastic surgeon.