Implantable collamer lens (ICL) is one the implantable lens types to treat refractive errors in the eye. Unlike traditional contact lenses ICL lenses are surgically implanted inside the eye. Typically behind the iris and in front of the natural lens. This allows for a more permanent solution to vision correction and can be particularly beneficial for individuals with high levels of nearsightedness, farsightedness or astigmatism. ICL surgery is typically safe and effective, with a low risk of complications. However, as with any surgical procedure. It is important to discuss the risks and benefits with your eye doctor before making a decision.
What is ICL ?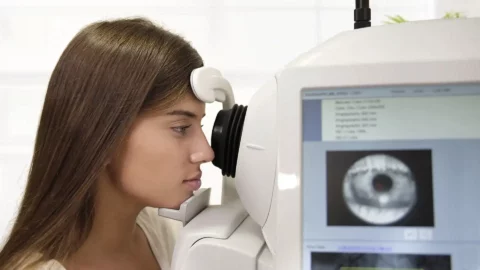 The Implantable Collamer Lens (ICL) is made of a biocompatible material known as collamer. Collamer is a proprietary material. It is composed of a high-purity collagen copolymer combined with a hydrophilic material. This unique combination of materials provides a highly biocompatible, durable and stable product. The ICL comes in a range of sizes and powers to accommodate the individual needs of each patient. The sizing and power of the lens are determined by a thorough evaluation of the patient's eye including the corneal thickness as well as the shape of the eye and the degree of refractive error.
Types of Implantable Collamer Lenses
There are several types of implantable collamer lenses that are used to correct refractive errors in the eye. The most common types of ICLs include toric ICL. It is designed to correct astigmatism and multifocal ICLs which are designed to improve both distance and near vision. Additionally there are phakic and psuedo phakic lenses which are designed to replace the natural lens of the eye. Some ICL are also made with a material called Visian. It is a proprietary collamer material that is biocompatible and allows for clear vision. The best for a patient will depend on their specific needs and the recommendations of their eye doctor.
What are the Benefits of ICL?
Among many benefits of ICL the most important aspect is the fact that they have a high success rate and most patients experience significant improvements in their vision after surgery. Recovery after ICL surgery is generally quick as the patients are able to resume normal activities within a few days. ICL lenses do not require daily maintenance like cleaning or disinfecting which makes them more convenient for patients. They are a good option for patients with active lifestyles as they do not interfere with activities such as swimming sports or outdoor activities.
Advantages
The advantages of ICL can be various depending on the requirements of the patient. ICLs are a good option for patients who may not be good candidates for other types of vision correction surgeries such as iLasik or PRK. They also have a reduced risk of developing dry eyes compared to other types of vision correction surgeries.
Disadvantages
Disadvantages of implantable collamer lens include several factors. People with medical conditions like glaucoma or severe dry eye might not be suitable candidates for the procedure. Moreover, those who have had prior eye surgeries or specific eye ailments may not meet the criteria for ICL implantation.
Who can Undergo ICL Surgery?
Implantable collamer lens patients should meet certain criteria, such as having healthy eyes with no significant eye diseases, having an adequate corneal thickness, and having a prescription between -3.00 and -20.00 diopters of myopia. ICL surgery candidates should not have a history of significant eye trauma, active eye infections, certain connective tissue disorders, or be currently taking certain medications.
Implantable Collamer Lens Surgery
Implantable collamer lens surgery begins with the administration of eye drops to dilate the pupil and numb the eye. ICL surgery continues with the practice of a small incision. The ICL is then folded and inserted through the same incision into the eye. Once inside the eye the lens is carefully positioned behind the iris and in front of the natural lens. The ICL surgery is completely painless.
Before the Surgery
Before ICL surgery patients undergo a comprehensive eye examination to determine if they are eligible candidates for the procedure. The surgeon will also take detailed measurements of the patient's eye to ensure that the ICL lens is the correct size and shape. ICL surgery preparation period also involves using instruments such as an ultrasound or optical coherence tomography to create a detailed map of the eye's internal structures.
Recovery
Implantable collamer lens surgery recovery is generally quick and relatively painless. Immediately following the surgery, patients may experience some minor discomfort as well as blurred vision or sensitivity to light. This is typically managed with the use of prescription eye drops, and most patients are able to resume normal activities within a few days.
What are the Risks?
ICL surgery risks exist as with any other surgery however the procedure is generally safe and effective. It is important for individuals to discuss their concerns and any questions beforehand to ensure they are fully informed and comfortable with their decision.
ICL Surgery in Turkey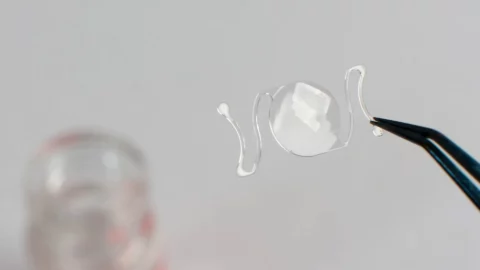 ICL Surgery in Turkey is a popular treatment due to its minimally invasive nature and the use of biocompatible collamer lenses. The surgery is typically performed under local anesthesia with patients able to be discharged on the same day. Recovery time varies however patients can resume normal activities within a few days. ICL lens implantation is a reversible procedure making it a versatile option for patients who may experience changes in their vision over time. It is crucially important to prioritize quality and safety over cost when it comes to choosing the right clinic.
ICL Surgery Clinic in Istanbul
ICL Surgery in Istanbul at our partnering clinic has multiple advantages including top-notch medical facilities, experienced surgeons, and affordable prices. Laser eye surgery in Istanbul as well as lens implantation provides our patients with a stress-free treatment along with a chance to explore the city's rich history, beautiful architecture, delicious food, and friendly people. With its excellent medical facilities, experienced surgeons, affordable prices, and beautiful culture, Istanbul is an ideal destination for those seeking high-quality medical care and a unique travel experience.
How much is ICL Surgery Cost?
ICL surgery cost in Europe can range from 4,000 to 5,000 € per eye. In comparison, the cost of ICL surgery in Turkey is generally lower than in many European countries. The main reason for the lower cost of ICL surgery in Turkey is the lower cost of living and lower operating costs in the country while the used technologies remain the same as in Europe. ICL surgery price at our partnering clinic starts from 2,500€ per eye and also includes accommodation, transfer, and all medical costs as well as a personal translator on site.