FUE Method (Follicular Unit Extraction) Individual Extraction for Men
The FUE treatment is not only the newest and most innovative technology available in Turkey but also worldwide. Hair roots are extracted from the donor area at the back of the head, which are then subsequently implanted into the thinner areas. Through this method, a very natural result can be achieved. The method applied is currently the most modern and innovative method.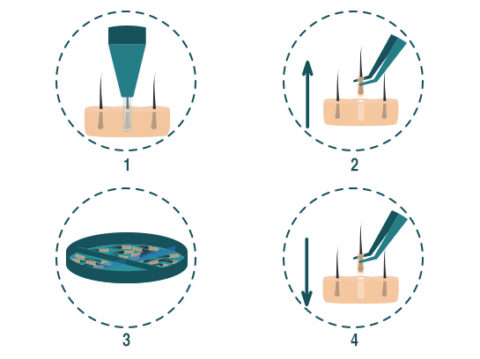 Sometimes the head does not have sufficient donor sites for a hair transplantation. In exceptional cases, following a hair analysis on location in Istanbul, as well as a detailed consultation to discuss the results with the highly qualified doctor, the FUE method allows hair transplants using other body hair.
Process of the FUE Treatment
All of the hair will be shortened to 2 mm.
A local anaesthetic is administered in the area of extraction.
Individual extraction of the hair roots with the micromotor, pen removal or manual.
Examination of the grafts & storage in Petri dishes with a nutrient solution, so that the grafts do not die
The hair roots are then implanted surgicallyFollow-up examination and take home care sets from Hairvital. You must use these products for 2-3 months.
Advantages
The benefits of FUE are that you avoid a long linear scar so that after the hair transplantation you can still have extremely short hairstyles, as well as a reduction in postoperative wound pain.
Lower pain felt than other technique
You can transplant significantly more grafts per session – up to 4000 grafts.
More accurate and more precise work because there is a clear view for transplanting the follicles and therefore you can transplant up to 60-70 grafts per centimetre squared.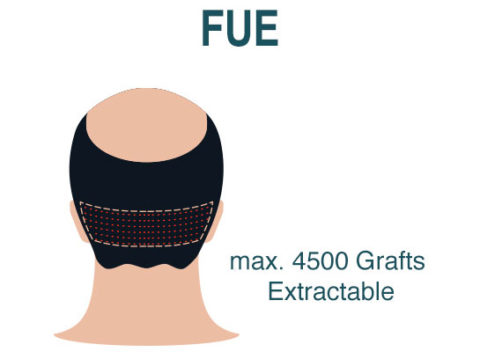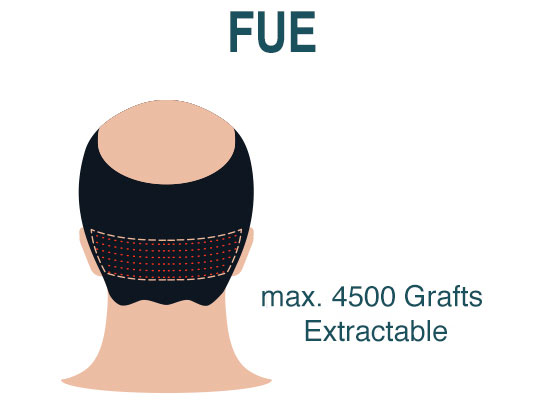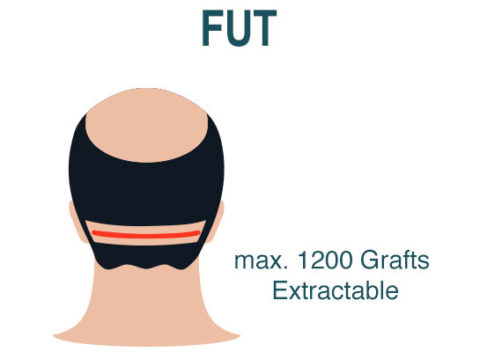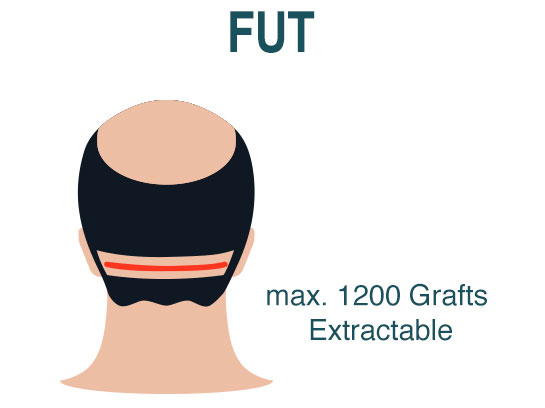 Disadvantages
Shaving the nape of the neck in preparation for hair transplantation remains visible for a period of time. Many men handle this striking feature by keeping their hair as short as possible until all their hair has grown back.
The FUE procedure lasts longer because the hair roots are extracted individually
As the hair is extracted individually, this method of hair transplantation is more expensive than the FUT technique.
Conditions
Patient is in good health (No Aids, Hepatitis etc.)
No stress or illness related hairloss
Enough donor area to cover the problem zone
Combination Possibilities
An FUE treatment can also be combined on request with a PRP treatment to strengthen your scalp and to stimulate hair growth. This has already been integrated into our FUE Gold package.