CEREC – Modern Computer Technology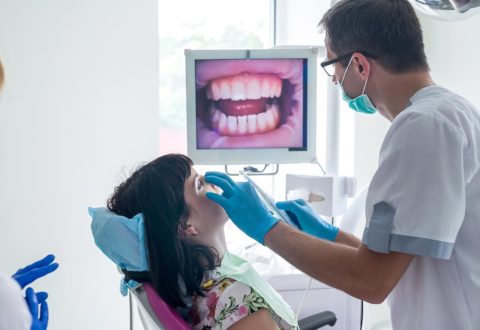 CEREC stands for CEramic REConstruction
Cerec is a method for the direct production of milled ceramic restorations by a computer.
The special thing about this method is that the dentist can construct and set the restoration directly on the dentist chair, therefore often only one session is required.
Cerec uses the CAD / CAM technology (Computer Aided Design / Computer Aided Manufacturing). On the basis of more "visual imprints" with a 3-D computer camera using a special software, a three-dimensional realistic image of the teeth is displayed on the screen. The image of the teeth works like a hands-free model and it can be rotated on the screen, turned over and viewed from any direction. Therefore CEREC 3-D permits the exact adjustment of the sides and contact surfaces of the tooth with its neighboring teeth, taking into consideration the opposite teeth, so that the optimal occlusion (Bite) can be achieved as well as extending the scope to include the useage of other teeth on one jaw. Now the dentist can use a special software for the restoration (e.g. inlays, onlays, overlay, partial crown, crown, bridge) and a special grinding machine shapes them out of a small ceramic block. The precise control of the shape of the grinding process results in an exact fit of the denture. The CEREC system has been tested for over 20 years.
Process for CEREC-Treatment
Removal of the affected part of the tooth or filling. The tooth is prepared for the measurement reading.
The reading is carried out with a small camera specifically designed for the mouth. The restoration is accurately carried out by polishing the teeth with little ceramic blocks.
Through hardening with a special light, the filling can be targeted directly. Polishing or glazing creates pleasantly smooth, tooth-like surfaces. Colour design guarantees an absolutely genuine-looking tooth-like appearance. The perfect glue is used in the tooth to ensure extremely long durability.
Advantages:
Short duration of treatment – often possible in one session
Digitalised 3D Camera – Representation on computer
Construction of the restoration by means of a special software (in approx. 30 minutes)
Genuine / natural-looking teeth
Extremely long durability
This has been used for over 25 years. This digitized method has been developed further and implemented successfully for more than 20 million patients. It has been proven that restorations with the CEREC method achieve longer success than the gold restoration.
Disadvantages:
The individualization of inlays, veneers or crowns by painting is possible (Werling 2007), but this is limited.
Treatment Methods
15 International awards, most notably the "Barraquer award" from the American Academy of Ophthalmology (1997). Most recent, The "Casebeer Award" by the ISRS (2002), "Charles D. Kelman Innovator's Lecture" by the ASCRS (2003), "Innovator's Lecture" for 2003, by the Deutsche OphthalmoChirurgie (DOC).