Hermann H.'s experience with CEREC technology
Dental implants have long proven to be the perfect alternative for replacing missing teeth. Modern technology has ensured that implant crowns not only look like real teeth but also feel like them. They allow patients to laugh with confidence again, to speak freely, and to eat what they desire.
Hermann H. knew that the path to an implant was going to be costly for him. A total of 10 zirconium crowns were to be placed for the upper and lower jaws. In Germany, his dentist calculated that it would take at least half a year. Finally, it was necessary to create dental impressions for each tooth, which, unpleasantly, triggers a gag reflex in many patients. Then a temporary denture would have to be produced, which Hermann H. had to wear until the implant was finally completed. And with each session, another anesthetic injection would be needed when the replacement ceramic was to be installed.
Hermann H. kept putting off the necessary procedure until he heard about the pioneering CEREC process, which has been used in our dental clinic for years. Compared to conventional implant restoration from the laboratory, our patients benefit from numerous advantages of digital implantology using CEREC. The procedure takes less time, the computer-aided data deliver even more precise results, resulting in a new level of quality and highly comfortable wear, and the costs involved are significantly reduced.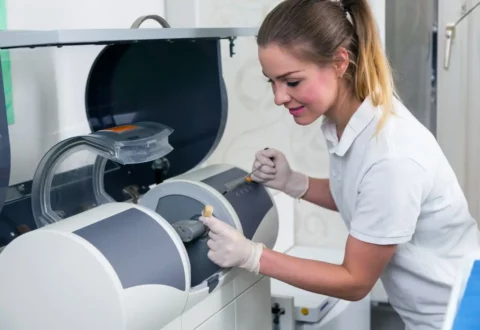 Implantology with CEREC and CAD/CAM
In our dental clinic in Istanbul, our specialists in the field of implantology have been using the state-of-the-art digital CEREC process for years. The CEREC unit consists of a mobile computer with an integrated flat screen and a CAD/CAM milling unit. This combination ensures that most CEREC implants can be completed and installed in just one day. Whereas Hermann H. would have had to wait days for his crowns to be completed in the laboratory using conventional laboratory technology, the complete treatment at our dental clinic in Istanbul took just three sessions to create, produce and install the 10 crowns.
This is because the computer-aided 3-D process allows precise measurement of the teeth, upper jaw, and lower jaw, which our CEREC dentist used to produce the precisely fitting ceramic. As this was a major job, the CEREC system was used several times to produce the matching impressions.
Procedure and Technique
A digital impression of the patient's jaw was taken with the aid of an electronic dental camera, which is extremely precise and accurate. Using the data provided, the CEREC unit independently calculated the optimum option for the restoration, which was displayed in three dimensions on a high-resolution screen. Combined with the experience and expertise of our CEREC dentist, the computer's suggestions for Hermann H.'s replacement teeth were then individually adjusted by hand in order to perfect the result.
In the next step, the final data was sent to the CEREC milling unit, which milled each individual implant from a ceramic block within 15 to 20 minutes. The implant was ready for immediate use and immediately met the highest functional and esthetic demands after installation.
Summary
For Hermann H. the advantages of CEREC treatment were obvious:
Aesthetically perfect solution
Maximum precision thanks to digital diagnostics, planning and implementation
Low wound settlement and other stresses
High treatment reliability
Perfect fit and maximum wearing comfort
No uncomfortable tray impression required
Treatment is possible in only one session
Lower costs
No temporary restoration
Biocompatible dental ceramic
Metal-free
Very long lifespan
However, the CEREC method is not only ideal for patients who, like Hermann H., prefer to spend less time at the dentist's, but who nevertheless attach great importance to the high accuracy of fit and esthetics. In fact, the procedure is ideal for anyone who requires a partial crown or veneer. This is because neither a silicone impression nor the wearing of a temporary restoration is necessary. Dentists and patients have been enthusiastic about the CEREC process for 40 years. In other words, long experience instead of short hype!